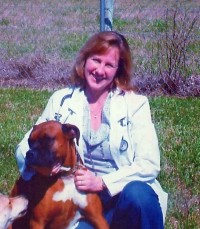 Dr. Diana Joyner-Mattox graduated from Zephyrhills High School in 1986 and then enrolled at Pasco Hernando Community College where she earned an Associate in Arts degree while working full-time as a veterinary assistant. Dr. Diana transferred to the University of Florida as a Junior and graduated in 1991 with a Bachelors degree in Animal Science, and continued on to earn her degree in Veterinary Medicine from the University of Florida, College of Veterinary Medicine in 1995.
In May of 1997 she started her own small animal practice in a small converted home with 1 employee. The practice has grown in leaps and bounds over the last 22 years and expanded into a new 3600 sq-foot state of the art facility in December of 2003.
Dr. Joyner-Mattox's family includes her husband Casey, stepdaughter Lynsey, one dog named Brandy, five rescue horses and five rescued cats. In her free time she enjoys spending time at home, traveling, hiking, scuba diving, horseback riding and reading.
Dr. Joyner-Mattox was a member of the Pasco County Animal Services Advisory Committee for more than 10 years, she was Founder and President of Spay Pasco a non profit spay/neuter assistance organization and was awarded the Gold Star Award by the Florida Veterinary Medical Association for her animal welfare advocacy in Pasco County.
September 18, 2010 – Dr. Diana Mattox was awarded The Judy Schwartz Humanitarian Award by the Humane Society of the Nature Coast. This honor is "awarded to an Individual, Organization or Company who has made a significant impact on animal welfare locally or nationally" and in 2014 Dr. Mattox received the Distinguished Alumni award from Pasco Hernando State College.