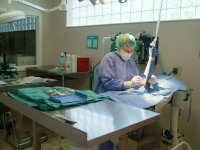 Veterinary medicine has advanced quickly, and the range of treatment options is not only broader but safer than ever before. Even so, finding out your pet needs surgery can be frightening.
Although complications are always possible, the AAHA Standards of Accreditation help ensure your pet benefits from the best surgical techniques and sterile practices. Surgical protocols at AAHA-accredited clinics include:
Pre-surgical assessments.
Prior to surgery, the veterinary team verifies the specifics of the procedure; completes a physical exam of the patient; and ensures blood tests have been completed, documented, and reviewed by the veterinarian. Among other things, these precautions help determine if your pet is at risk for complications while under general anesthesia.
Dedicated surgical suites.
To prevent post-surgical infections and cross-contamination, surgeries are performed in a room used only for sterile surgical procedures.
Surgical attire.
Staff must wear disposable caps and masks when entering the surgical suite. Anyone involved in the procedure itself must also wear sterile gowns and single-use gloves.
Sterile packs and equipment.
Surgical instruments are carefully cleaned, sterilized, and wrapped prior to each procedure to help prevent infections.
AAHA's Standards of Accreditation diminish the risks associated with surgery and help ensure the highest level of care. The safety and comfort of your "best friend" are always of the utmost importance.
San Antonio Animal Hospital provides high quality surgical care for pets in San Antonio as well as nearby communities of Dade City, Zephyrhills, Wesley Chapel and Ridge Manor.
Pre-anesthetic Safety Screening:
A pre-surgical physical examination will be performed before anesthesia is administered. Some pets have pre-existing internal problems that may result in surgical complications, yet are not evident on physical examination. These problems include anemia, lack of clotting, and problems with the liver, kidney heart or other organs.
We recommend the following health and safety screening tests prior to surgery to decrease the chance of complications and exposure to disease while hospitalized. These tests are the same as those performed on people before any surgical procedure.
Pre-anesthetic blood & safety profile (includes complete blood count and checks liver and kidney function)
Pre-surgical coagulation test (helps to identify conditions that may result in excessive bleeding, this test is mandatory for Dobermans)
EKG (electrocardiograph screen for heart health)
Heartworm Testing (dogs) (we highly recommend any pet not currently on heartworm preventative be tested prior to surgery. There is an increased risk for possible life threatening complications during surgery if your pet is heartworm positive.)
Feline leukemia / feline aids test (cats) (we highly recommend any cat undergoing anesthesia be tested prior to anesthesia. There is an increased risk for possible life threatening complications during surgery if your cat is positive)