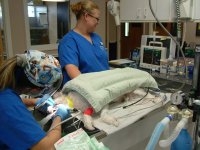 Dental care of dogs and cats is one of the most commonly overlooked areas of pet health care; however, it is necessary to provide optimum health and quality of life. Diseases of the oral cavity, if left untreated, are often painful and can lead to more serious health problems including heart, lung and kidney disease.
There are two critical components of your pet's veterinary dental care: oral examinations and dental cleanings. Veterinary dental care begins at the puppy and kitten life stage. As your pet ages, your veterinarian will look for developmental anomalies, the accumulation of plaque and tartar, periodontal disease and oral tumors. Veterinarians can perform a basic oral examination on patients that are awake. However, when a cleaning is required, your pet will need to be induced under general anesthesia wherein a thorough examination will be done prior to the cleaning. Dental cleanings performed while your pet is awake is not only dangerous for the team member performing the cleaning but dangerous to your pet as well.
Since there is an element of risk associated with any medical procedure, it is important that safety precautions are used. Among the many standards in the dentistry section, AAHA accreditation requires that veterinarians perform thorough examinations of the teeth and structures of the oral cavity in patients presented for dental procedures and only properly trained practice team members perform dental procedures. Additionally, AAHA Standards recommend that dental procedures are accompanied by pain assessment and appropriate pain treatment
Peridontal disease is the most common ailment found in dogs and cats over four years old. It can lead to pain and tooth loss, and the resulting bacteria can spread throughout the body and damage the heart, lungs, kidneys and liver.  Our dental services include teeth cleaning and polishing, digital dental x-rays, tooth extractions and oral surgery.
San Antonio Animal Hospital provides high quality dental care for pets and their owners living in San Antonio as well as nearby communities of Dade City, Zephyrhills, Wesley Chapel and Ridge Manor.